This course is Developed to give students, ground skills, in cast moulding, in a variety of materials.Here under Plaster, Polyester, Polyurethane, Acryllics and Silicone rubber.
After the course, the students are able to manufacture a precise mould after a model they made them self. If they followed Model Course 1 or already has the skills to manufacture a model. Or to do castings in clear materials without doing their own moulds.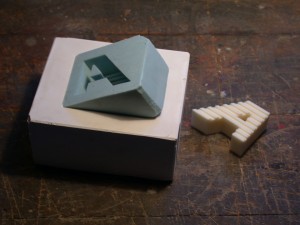 The course can be run in 1 intense week, or in two weeks under normal cercumstanses.The students will only have the need of hand tools and a workplace with ventilation.In the end of the course, there will be an evaluation of the course and the results.The goal is that the students are able to do a rubber object after the course, and knows the grund rools for cast moulding in a variety of materials and can see it in context to the industries moulding techniqes. English
or Danish
Do you want your students hand kraft skills, to be significant better in a short time. Abeling them to make their coming projects, visual, superior? Call for more information.
Silicone Form and Object casted in Polyurethane.
The proces can be relevant, in modelmaking, consisting of many identical parts.
Here a process tool, held together by magnets.
In addition this workshop can contain a lecture in moulding in clear materials. 2 component Polyester or Acryllics.
The endresult can be influenced by your wishes. maybe its assesories for clothing, finger rings and necklaces or artpieces.
Or a course in making  packaging for the object, as seen on the top of this page.