This project is number 3 i have made with Stevns Kommunes Birgitte Nielsen birnie@stevns.dk , Hans Jørgen Jørgensen and Ibsen elanlæg.
I have designet, engineered and manufactured the 4 different armaturer, all in all 133 pieces.
This time we were lighting up a whole Department of the Store Heddinge school with LED armatures and light sources of highest quality.
We know from research that you can learn more in a day, if the light is optimized.
The armatures are driven with electricity from batteries and solarcells, on the roof of the school.
The solarcell area is overdimensionned to that we still have current in the darker wintermonths.
In the summertime, when we get too much electricity we invert it up to 220 volts and use it otherwhere on the school.
Here you see the welcomearmature saying " Velkommen i Egen. Her anvendes solenergi til belysning" ( Welcome to the Oak ( name of the school department ) Here solarenergy is used for lighting"
Here you see the armature for the  9 classrooms, giving + 500 lumesn on the tables, with no blinding.
Formwise inspired by all the fossiles in the underground of Stevns Kommune.
Here you see one of the 9 blackboard armatures, with the text, laser cut  " I dette rum anvendes solenergi til belysning " ( In this room solar energy is ysed for lighting )
Here you see the armatures placed in halls and halways all in all 47 pieces.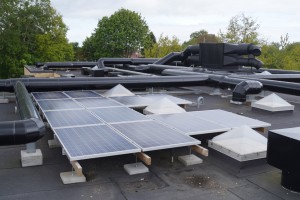 Solarcells are lying flat on the roof bescause of Danish Lawgiving.
It is not, in any wayk the optimal anglek to get most out of them, especially in the winter, when the sun is traveling in a low angle.
Danish lawgiving is not yet ( i hope it soon will be ) made for private investors in solarcells, as you do not get a realistic amount of money, for the electricity you send back into the 220 v grid.
We must pay full price when we buy the electricity but only gets a procentage, when we sell it.