Read the report about the project here    Hybridfiber1—341-043_rapport
Read a Folder about the project here  341-043_Folder
The project were about, leading the sunlight into buildings, and when the sun does'nt shine LED diodes should take over.
Kent has developed the armatures and the optics, that were mixing the sun and the LED light, and the electronics controlling it, and the light in Helle Trolles beautiful Fiber optic textiles too.
To start with, we were mounting a passive armature ( the one on top, with the green disc ) and an artistic reflecting installation, to observe how effective the system would be, in Denmark, with the amount of light we have here. This armature and the artistic installation, does not use electricity, the light comes direct from an optic collector, on the roof of the building.
The development of the armatures and textiles were done at Designskolen Koldings facilities.
You can read all about the project and all the persons and institutions participating, in the report.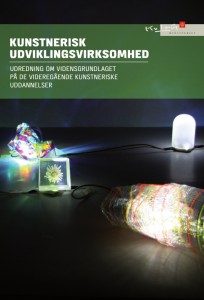 Read about it in this publication from Ministry of Culture Denmark
Coverphoto and  Page 36
Kunstnerisk udviklingsvirksomhed_links_2012 (1)
Take a look at this movie about the project ( Danish version )
English version    http://www.youtube.com/watch?v=k6qKy9ZSzlA&feature=related
Parens Optic solar collector
Lenses
Coordination
My Project partner Vibeke Risberg
LED sign, telling about the project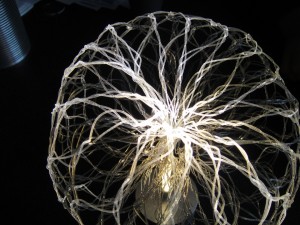 Helle Trolles Mushroom cloud in Optic Fiber
My Project partner Helle Trolle
Fiber optics
Helle Trolles Fiber Optic Textile
Student
Passive test Armature
Optics made for experiments in acryllics
My desk during the project
Version 1 of the Hybride Light source for mounting in existing lamps
It consists of  1 optic part, a radiator for cooling, 1 pcs. of 10 W LED and 2 Fiber Optic Bundles
Optic experiment
Optic experiment
The Final version of the hybride Armature version 2, for lighting up a working place   .