Videnscenter for svineproduktion has made a fantastic project, about improving life for pigs and farmers.
See what they write about our cooperation here (Danish)
See their report here  Udvikling af farehytter til søer på friland
See the original consept here. Piglo
See the product here   http://http://www.poca.dk/index.asp?id=16&la=da
Svineproducent Karsten Olesen
Reflections about the product in Landbrugsavisen
Read it here Karsten Olesen- Svineproducent – reflekterer over produktet
Her you see the first pieces of wood, mounted to make a mould over.
The huts are going to be made in fiberglass.
The skeleton coveret with insulating foam.
Later this will be between two layers of fiberglas.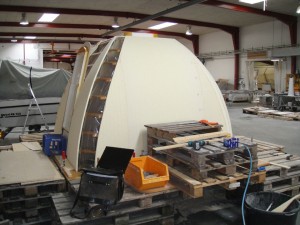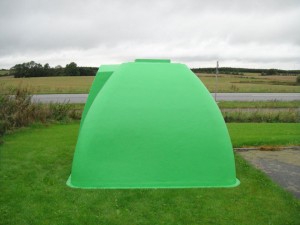 The first shell of a prototype
Colour isnt optimal yet
Graphics not made yet ( Hut number and logos )
A farmer with 100 huts is crawling on hes knees 10 working weeks a year, in a traditional hut.
Here he has hes own door, and doesnt even need to bend down.
Thats a nice working situation for him;)
This is the door for the pigs and piglets.